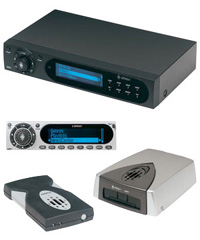 SimpleDevices OmniFi
Digital Audio Player
www.simpledevices.com

The OmniFi is SimpleDevices' next-generation audio streaming device. The successor to the SimpleFi, this new product line consists of two different ideas: a home streaming device and a car hard-drive-based device. Both are designed to give the same look-and-feel, and both can be connected to a home PC via wireless network.
Base2 helped to design and implement the menuing system and user configuration features. The result is a system that requires little or no user configuration and is simple and intuitive to use.
Features:
· connects and streams content from any UPnP server
· car product includes automatic content synchronization when wireless networking option is attached
· streams MP3 over Ethernet or 802.11b
· plays all MP3 bitrates up to 320 kbps
· infrared remote control
· graphical LCD
· upgradable firmware
· user settable Presets
· user settable Favorites playlist